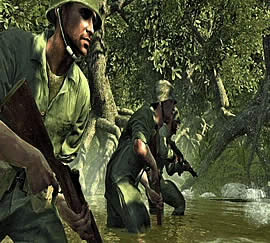 El quinto capítulo de una saga tremendamente emocionante, que una vez más nos obliga a jugarlo dada la notable capacidad gráfica y jugable, y una banda sonora que nos envuelve en una nueva aventura bélica que claramente que tomó nota de las anteriores. Call of Duty World At War es excelente en todas sus entregas, y en GuiaMania analizamos sus secretos, dentro de lo cual los usuarios de PC resultan ser los más beneficioados.
Trucos para Call of Duty World At War para Wii, PS2, PS3, Xbox 360, y PC
Nuevas modalidades de juego:

Activa la opción Veterano: Para habilitar esta dificultad tienes que llegar a un nivel de 32 en la aventura normal.

- Desbloquear la opción Zombie: Esta opción, que nada tiene que ver con los zombies de Resident Evil, se logra a partir de finalizar la modalidad principal de historia. Podemos apreciar esta modalidad en el video que exponemos más abajo en Guiamania.
Los siguientes son Trucos sólo para la versión de PC de Call of Duty World At War:

Primero, accede a la consola con la tecla "º", y escribe "devmap mak", tras lo cual debes presionar la tecla Enter. Con esto, habrás habiltado la posibilidad de ingresar los trucos que vemos ahora en guiamania, los cuales se escriben desde la pantalla de la consola:
- Habilita la preciada modalidad para ser indestructible: modo dios

- Hazte de todo el armamento de Call of Duty World At War: give all

- Descubre una opción en la que vuelas literalmente: ufo

- Termina con tu vida con honor, a lo guiamania: kill

- Desactiva el clipping: noclip

- Lista todos los mapas del juego: mapname

- Si los enemigos te dan problemas, quítales la puntería: notarget